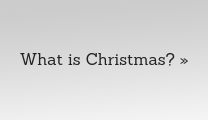 What is Christmas all about?
To put it mildly, Christmas is a little bit confusing to the watching world.
Year after year we are struck by the paradoxes of Christmas, carnival kind of mentality,
the humility and poverty of the stable confused with the wealth and indulgence of selfishness and gift giving,
the quietness of Bethlehem with the din of the shopping mall,
the seriousness of the incarnation with the silliness of the party spirit and party attitude,
the blinking colored lights juxtaposed with the star of heaven.
Just a confusion designed certainly by the enemy of men's souls, cheap plastic toys mixed with the true gift of the wise men, angels confused with flying reindeer, an ox and a donkey in a stable confused with a red nosed reindeer, of all things, the filth of the stable confused with the whiteness of fresh snow.
And so it goes and you're familiar with all of that. Mary and Joseph and North Pole elves…kind of hard to look through this and see the reality.
But what is Christmas really about? Let's explore through the Philippians 2:5-11 verse. Watch video below.

Recent Portfolios
---