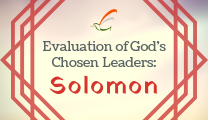 Vol 1: A devoted king derailed by compromise – Solomon
God knows our strengths and weaknesses, and his commands are always for our good. When people ignore commands, negative consequences inevitably result. It is not enough to know God's word or even to believe it. We must follow it and apply it to our daily activities and decisions. Take God's commands seriously. Like Solomon, the wisest man who ever lived, we are not as strong as we think.
What can we learn from the life of Solomon? What are the highlights of Solomon's life?
Watch sermons to learn more:
Note: Part 4 sermon video is unavailable but you can read online.

Read Sermon
Recent Portfolios
---